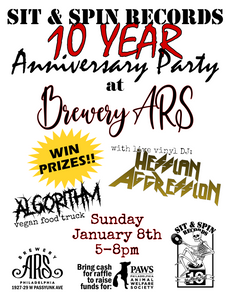 Sit & Spin Records 10 Year Anniversary Party - Jan 8th
Sit & Spin Records is turning 10 and we're having a party to celebrate.
Join us at Brewery ARS (just down the street from Sit & Spin) on Sunday January 8th from 5:00 to 8:00 pm. We'll be enjoying fine brews and brutal tunes with Philly's finest hard rock and heavy metal DJ, The Hessian Aggression.
Bring cash for the raffle!
We'll be selling tickets to raise funds for PAWS in memory of our loving boy Conway. 
Prizes include:
- a Sit & Spin Records Gift Certificate
- vinyl from our exclusive Puke N Vomit collection
- the new Sit & Spin Records long sleeve t-shirt
- a set of Sit & Spin Records pint glasses
- a gift from ARS
- and more
Come hungry!! We invited our favorite Philly food truck, ALGORITHM, to party with us. Everything on this truck pairs well with everything served at ARS. It's a match made in heaven.
And last but not least, pick up a 4-pack of 45 REVOLUTIONS, the limited edition Sit & Spin Records 10 Year Anniversary Lager. Brewed by our good friends at ARS.
If you missed out on our pint glasses, we stashed a few for the party. Only $10 each (cash only). We'll also be dropping a limited edition long sleeve shirt with the new 10 Year logo, created by our good friend Chanda Gonet. Shirts are limited and will be available for $30 (cash only). Any leftovers will be made available in-store or online. 
---
1 comment