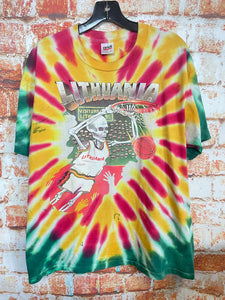 About our 1992 Grateful Dead vintage shirt
The Grateful Dead's 1992 tour was a special moment in the band's history, as it marked their first full tour since the death of keyboardist Brent Mydland in 1990. The tour was also notable for its unique merchandise, including the
Grateful Dead/Greg Speirs Lithuanian basketball shirt
.
The shirt features a colorful and intricate design, with the word "Lithuania" emblazoned across the chest and a skeleton slam-dunking a basketball. The shirt's unique design was the result of a collaboration between the Grateful Dead and artist Greg Speirs.
Speirs was a talented artist and a longtime fan of the Grateful Dead. He had previously worked with the band on several projects, including the design of their 1991 tour poster. For the 1992 tour, the band approached Speirs with the idea of creating a Lithuanian basketball-inspired design for their merchandise.
The idea behind the design was inspired by the Grateful Dead's connection to Lithuania. In 1991, Lithuanian basketball star Sarunas Marciulionis had reached out to the band, asking for their support in helping to raise money for the Lithuanian national basketball team. The Grateful Dead had responded by donating a portion of the proceeds from their concerts to the team, and they even had Lithuanian flags on stage during their shows.
The shirt was a huge hit among fans, who appreciated the unique design and the connection to the band's philanthropic efforts. The shirt became a collector's item, and today, authentic vintage versions of the shirt can fetch high prices on the resale market.
In conclusion, the Grateful Dead Greg Speirs Lithuanian basketball vintage shirt is a unique and beloved piece of Grateful Dead history. The shirt's intricate design and connection to the band's philanthropic efforts in Lithuania make it a must-have for fans and collectors alike. And while the shirt may have been created over 30 years ago, its legacy lives on as a symbol of the Grateful Dead's enduring impact on music and culture.
---