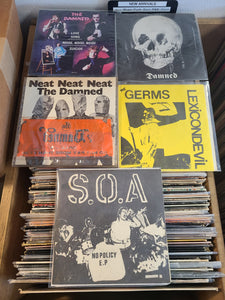 Saturday 4/22/23 Sidewalk Sale, RSD and More
It's been a few months since our last update on all the happenings around here and the killer vinyl that's been coming in. As most of you know, Saturday April 22nd is record store day and as per usual we will not be stocking any RSD releases. We will have plenty of great LPs and 45s spanning punk, hardcore, heavy metal, rock 'n' roll, jazz, soul and more made available at noon that day. 
Weather permitting, we will also have a sidewalk sale going on starting at 11AM and will include many fresh used T-shirts, posters, discounted LPs, 7"s, CDs, cassettes and probably some other random stuff.
All vinyl outside will be a minimum of 50% off and this includes several pricier records pulled off the walls.
$2.99 and under are 5 for price of 1; vinyl, CDs and cassettes
only the items outside will be discounted
the tent will be a "Phone-free Zone"
Last time some people thought it was appropriate to make stacks of LPs and sit there looking them up on their phone, blocking other people from being able to browse. This beahvior will not be tolerated; the sidealk sale is a phone free zone. Should you decide to use your phone at all while you're looking through records outside you will pay full price on all items.
I know everyone is anxious to hear about rare records that will be available, but the truth is I'm just getting started pricing stuff and there will be more to come so be sure to check back here for updates regularly. Some great punk and hardcore stuff includes 1st and early pressings from The Damned, The Germs, S.O.A., Leeway, Samhain, Big Boys, Cro-mags, Madball and more. Expect to see some 1st and early pressing jazz on Blue Note, Prestige and Riverside hitting the walls as well as more sealed soul and R&B records.
---